Catania application porting
The ICTS HPC team spent a month in Catania at the Institute for Nuclear Physics, working as part of a South African scientific application porting team.  Once again the trip was supported by EPIKH and was extremely successful. After the Africa-2 application course in Johannesburg earlier in the year a number applications were put forward by South African scientists for conversion to Grid format.  The South African team consisted of the ICTS specialists, Andrew Lewis and Timothy Carr, as well as Albert van Eck from the University of the Free State.  The team was headed up by Dr Bruce Becker of the Meraka Institute.  By working at the INFN the team had direct access to Grid specialists in porting, software and gLite middleware. The conversion course was extremely successful and saw a number of applications being converted and deployed to South African grid sites as packaged RPM modules.  Some progress was also made in understanding how MPI is used in the Grid environment.  Unfortunately during the course the SEACOM link was interupted, however we still had access to the GILDA training laboratory.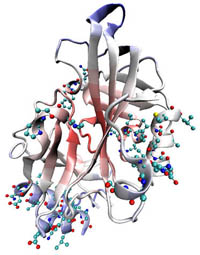 Portion of the Ebola virus rendered with NAMD
Once again the team took the opportunity to do some site seeing and take in as much of the local culture and history as time allowed.  We visited Taormina in the North of Sicily, as well as Castelmola.  The highlight was a weekend trip to Italy to visit Sorrento and the ancient Roman town of Pompeii, an unforgetable experience.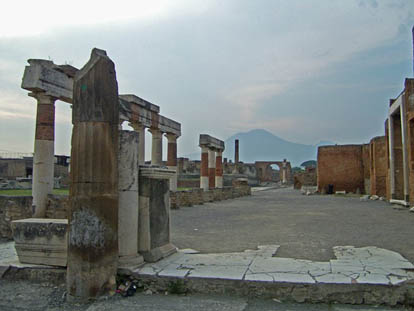 Pompeii, with Vesuvius in the background
We would like to thank the INFN team, Andrea Cort, Fabrizio Pistgna, Emidio Giorgio, Valeria Ardezonne and Dr Roberto Barbera for their hospitality and enthusiastic support.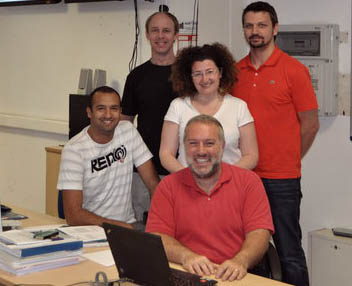 Clockwise from left: Timothy Carr, Andrew Lewis, Valeria Ardizonne, Albert van Eck, Dr Roberto Barbera.
We would also like to thank Sakkie van Rensburg, Andre le Roux and Eugene van Rooyen for making this opportunity available to us.