ICTS's 
Next Gen HPC cluster
 consists of two 
Dell C6145
 servers with 64 real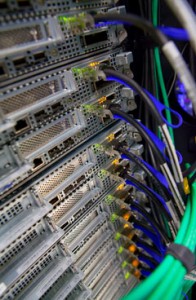 cores and 128GB RAM each as well as two SuperMicro servers with 4 
Tesla M2090 nVidia GPUS
 each.
The GPU servers are linked via infiniband and share an Intel SSD drive with 1.8TB of disk space on a BTRFS file system.  The servers share a common /home folder on the NetApp and a NFS link to 
hpc
's scratch area.
While the architecture remains similar to our original cluster we're using SLES instead of Scientific Linux.  The resource manager is 
Torque 4.1.4 
and the scheduler is 
Maui 3.3.1
.  These have been compiled with support for MPI, Infiniband and CUDA.
We will shortly be moving the two 600 series servers in hpc.uct to the hex cluster, bringing the total core count up to 284, including the two GPU servers.  Future upgrade options include more 600 and GPU series servers as well as boosting the RAM in the 600 series from 128GB to 256GB.