eResearch Africa Conference
The 
eResearch Africa conference
 hosted by UCT ICTS last week was a resounding success.  We had 90 delegates and speakers from 9 countries covering a wide range of eResearch topics. Apart from researchers there were numerous IT system administrators or adminresearch hybrids.  A Southern African  research sysadmin email support group is being investigated by Peter van Heusden from UWC.  Our Sicilian friends were also present to talk about 
Grid 2.0
 and some of the new web based Science Gateways, 
http://sgw.africa-grid.org
 and 
http://sgw.garr.it
.  Andrew Lewis gave a presentation on 
Budget Cluster Computing in AWS
.  Overall a most enjoyable and well organised event and we're looking forward to eResearch Africa 2014.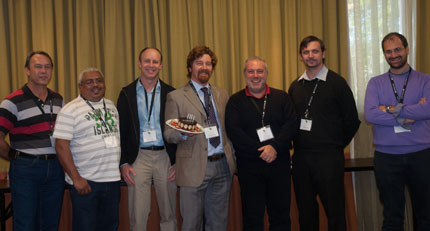 SAGrid and the Sicilian Grid crew: Heine de Jager, Ashley Rustin and Andrew Lewis from 
UCT
, birthday boy Bruce Becker from the 
Meraka Institute
, Roberto Barbera from 
INFN
, Albert van Eck from 
UFS
 and Riccardo Rotondo from 
GARR
.