Data mining and dashboard
The current state of the dashboard is not an error. We realize that node 603 is now sitting below the other 600 series servers, however this is part of our code testing for the new dashboard which is going to have to accomadate serveral new nodes. Basically we're doubling up on our physical infrastructure in the 600 range from 256 cores to 512 and not many people will have screens wide enough to display that many nodes. This is in addition to the new cloud based servers we're testing. We hope to have the new 600 series servers up for testing by early next week.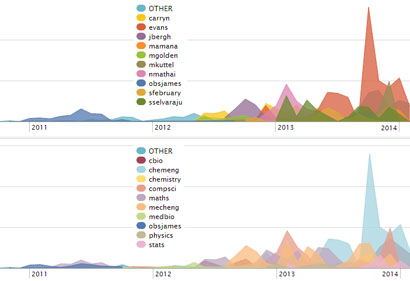 Above is a screen shot of our 
data mining software
 which has been examining log files all the way back to 2010. Displayed is the usage stats for our top 10 users and groups.